Procedures for joining Waseda Univ. Co-op
Waseda Univ. Co-op is operated by its members' share capital.
The amount of share capital depends on how long you will study at Waseda
University. ex.)Less than 1 year-3,000yen. More than 1 year-15,000 yen
You can join co-op at the following Waseda Univ. co-op stores.
Waseda campus : Co-op members' service center

2F ,Bld. №17th

Toyama campus : 1F, Bld. №31st
Nishiwaseda campus : B1F, Bld. №57th
Tokorozawa campus : 4F Bld. №100th
Just bring your above mentioned share capital and student ID or admission certificate to the nearest Waseda Univ. Co-op stores.
You will receive a Co-op membership card after finishing application.
When you graduate or leave school and withdraw from your Co-op membership, your total amount of share capital will be returned.
Notice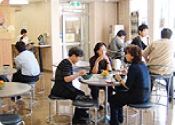 When buying a book, never fail to show your Co-op membership card.
You can buy books at about 10% OFF. Some books are not applicable.
When returning your share capital, bring your Co-op membership card.
Be careful to lose it, since you will be asked to pay a handling charge.
If you change the study period at Waseda University to over 1 year, kindly add 12,000 yen to the initial capital. Total share capital will be 15,000 yen.